While at my new favourite food store last weekend, I came across a lovely looking piece of pork loin – neatly tied and with just the right amount of fat on top, I knew it would be our Sunday roast for the following day.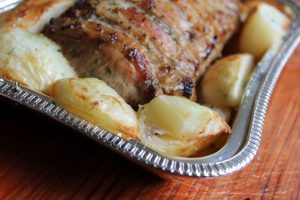 As an aside, there's just something about a roast in the oven that makes me feel incredibly grown up – even when roasting a chicken. Perhaps it's because it's traditionally meant to feed a family, but making a roast always makes me feel as though I'm doing something right.
I served this with roast potatoes, creamed spinach and a very simple mushroom sauce – and we feasted. Perfect for a rainy Sunday watching movies on the couch, or when you have a little special company for lunch, I don't think you can go wrong with this roast.
Honey, Thyme and Mustard Roast Pork
Serves 4
Ingredients:
1 loin of pork (weighing around 1.3kg)
1 tbsp fresh thyme, finely chopped
1 tsp fresh crushed garlic
1 tsp sea salt
2 tbsp honey
2 tbsp wholegrain or Dijon mustard
drizzle of olive oil for greasing the roasting pan
Method:
Preheat your oven to 240 degrees C and lightly oil a roasting tin – place it in the oven to heat. Mix the thyme, garlic and salt in a ramekin until well combined.Score the skin / fat of the pork (if not already done) in the "slices" you would like to cut it in to serve. Rub the thyme mixture over the skin and between the cuts. Mix the honey and mustard in a small dish, and coat the bottom half of the pork – all visible meat, excluding the skin.
Place in the hot roasting tin, and roast for 20 minutes. Reduce the heat to 190 degrees C and roast for 40 – 60 minutes or until juices run clear when pierced with a knife. If your crackling is not crispy yet, increase heat again to 240 degrees C for a final 10 minutes.
When pork is cooked, allow to rest on a breadboard, covered with foil, for 10 minutes before serving. Lovely served with roast potatoes, creamed spinach and a mushroom sauce.
(Cooking times came from here)