A few weeks ago, I received an invitation to pop in to Sotano on Bree Street for their new pintxtos menu offering, and a cocktail or two.
And, while the idea of a few Spanish-inspired snacks were tempting, the idea of skipping traffic home for an evening might have been what cinched the deal for us, as we made our way up to Bree Street at 5pm on a Thursday. And, you're not alone if you're asking "what are pintxos?"
Defined as "a small snack, typically eaten in bars", it literally translates into the phrase "to pierce", and is characterised by items speared by a toothpick. At Sotano, the pintxos are laid out on the bar and start at only R8 each, with guests encouraged to walk up, point to what they'd like and enjoy it at a table or at the bar with a drink. For more details on the difference between pintxos and tapas, I'd recommend this article – as it can get a little complicated.
The space itself is comfortable, a bar on one side and padded bench and table on the other, with a fireplace for when the autumn evenings get a little too chilly. Upstairs you'll find another bar and more tables, that are more focused on sit-down restaurant dining, rather than the pintxos-style snacking downstairs.
Onto the food – I found it's the perfect solution for when you want to meet friends for a drink and a nibble, without committing to dinner. The snacks themselves are particularly reasonable, with the most expensive at R38, and are accompanied by a decent selection of wines by the glass and cocktails.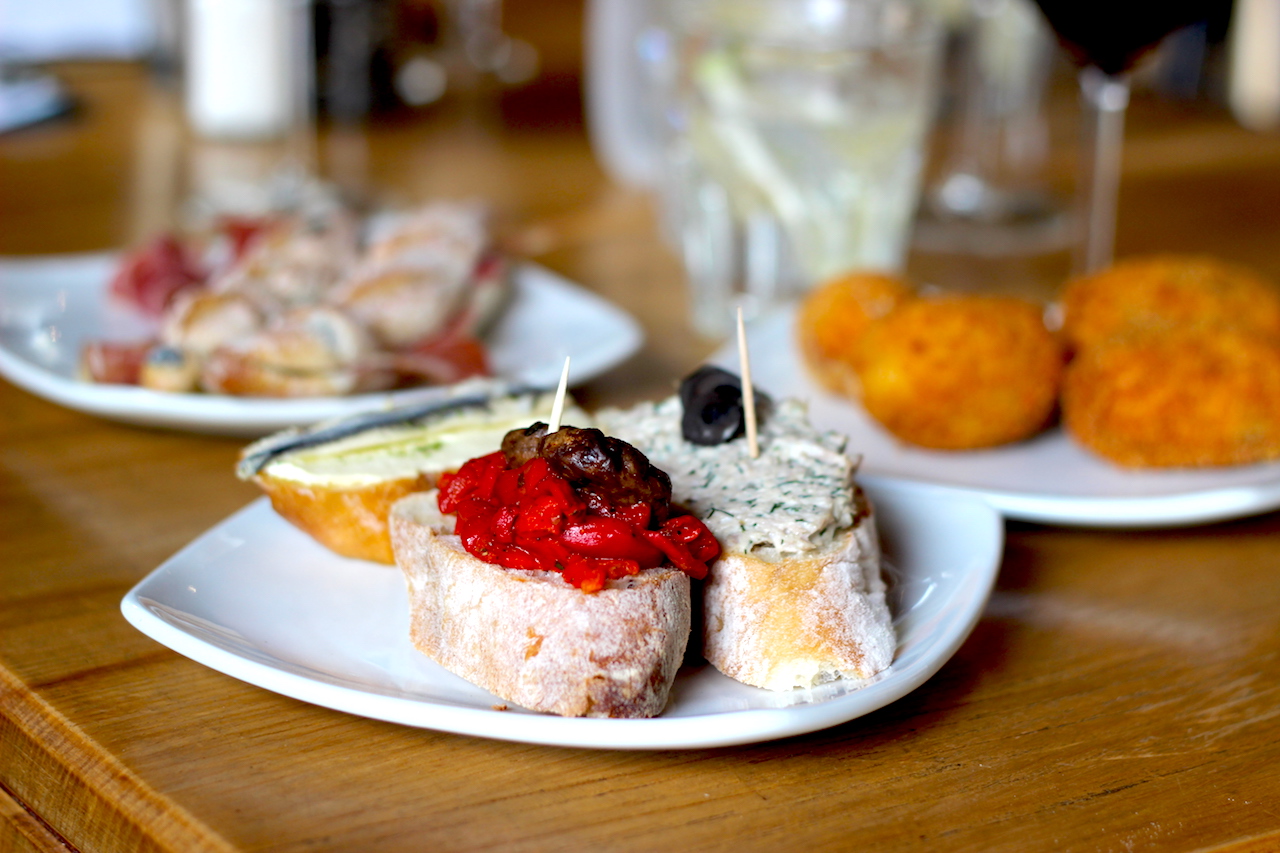 There were three of us for our little after work tête-à-tête-à-tête, and we shared a selection of snacks between us, while working our way down the cocktail menu. There are hake (R12) and ham and cheese croquettes (R15), tuna remoulade on baguette (R20) and cream cheese, aioli and anchovy baguette (R15) – with the latter being one of my favourites – followed by mushrooms and marinated peppers on baguette (R12), calamari cones (R25) and prawn, boiled egg and salmon roe (R20), punctuated by skewers of olives and anchovies.
In terms of favourites, I loved the anchovy on baguette and hake croquettes, and pretty much every cocktail that came our way. I'm kicking myself for not seeing the mushroom and egg dish and beef shin mash that were on the menu – they're made to order, so I must have just missed that section – as I've heard that they're exceptional, and possibly a new favourite. An excuse to return, I feel.
It's a great spot with fantastic, easy-going atmosphere (just the spot when you've had a long day and need an hour to unwind before heading home) and a great team who are eager to help you find the perfect cocktail and keep the snacks flowing.
For two other reviews, visit Lipgloss Is My Life here and Cape Town My Love here.
We enjoyed our meal as guests of Sotano. All views and images are my own.