Earlier this week I wrote about our stay at the 12 Apostles Hotel & Spa – which ended with us enjoying their Sunday buffet lunch before we left.
From the official media release :
"Every Sunday, Executive Chef Christo Pretorius creates a scrumptious buffet with typical dishes such as roasted butternut, feta, and plum tomato salad; Oriental prawns, spring rolls with sweet chilli sauce; roasted lamb with mint jus; and oven-roasted sirloin with rosemary gravy. Lunch is served every Sunday from 12h30 to 15h30 and costs R285 per person and half price for children under 12 years old."
The selection was varied – covering both traditional and modern elements of a Sunday lunch (if you are looking for a thoroughly modern lunch, head here) – you can find beef tartare alongside Yorkshire puddings and roast rib of beef. We started with a cold selection – Waldorf salad, roast beef with truffled mayonnaise, roast tomato and mushroom tartlets – next to goat's cheese mousse, oxtail croquettes and cucumber poppyseed salad – we tried (and failed) to keep our selection small, to allow space for dessert.
It was the most spectacular Sunday – we took our time and enjoyed our 'starters' on Azure's deck – with a clear blue sky and endless ocean in front of us, we were in no hurry to move on to mains.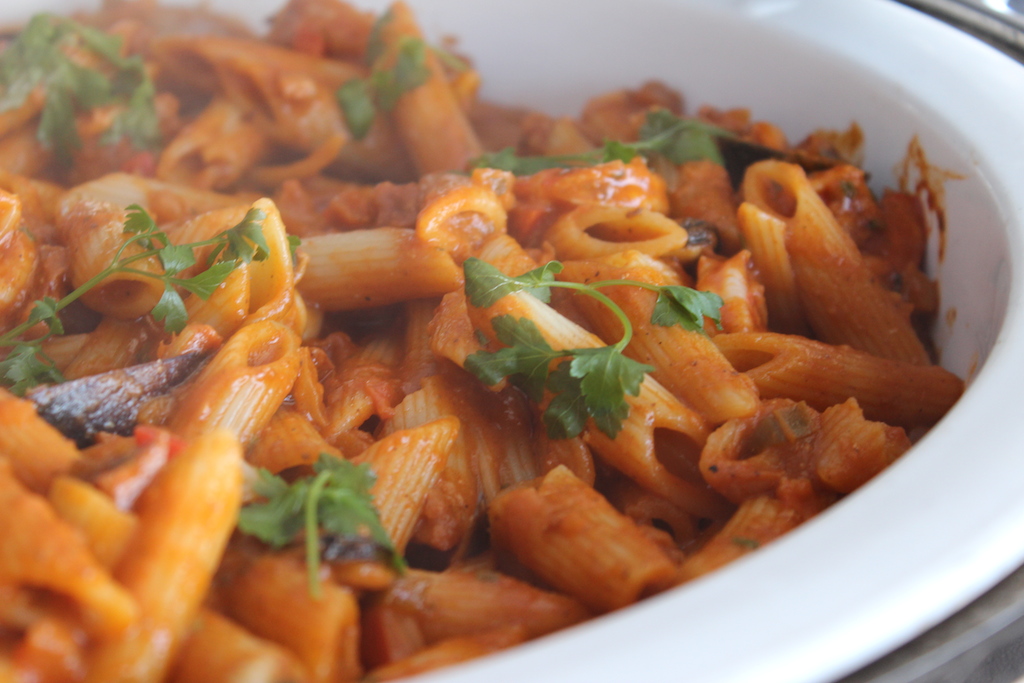 Having another wander inside, I discovered the hot dishes on offer – turning down the option of roast beef and Yorkies, I found beautifully succulent yellowtail, Kassler steaks with mustard, Spanish seafood pasta – in addition to a selection of stews, vegetables and accompaniments.
I can happily say that I chose well – the fish was exquisite – with the pork coming a close second. Keeping portions small is the way to win.
We were told by friends of the legendary cheesecake – the must have dish at the hotel – and, it was, ok. Perhaps it was over-hyped – it was perfectly good cheesecake, served with fresh berries on top, but nothing mind-blowing. However, the rice pudding was a revelation. Served at room temperature, it was light and fluffy – more a whipped vanilla mousse, with speckled rice throughout. At the chef's recommendation, I enjoyed it with a generous puddle of salted caramel sauce. Heavenly.
There were also whole cakes on offer, eclairs (also good) and brownies – most of which we simply had no space to enjoy. Stretchy pants can only do so much for you.
For R285 a person, I think it is really good value for money – considering the selection of items available and the location – it is a special Sunday lunch and a very reasonable price. Book a table on the deck and enjoy a delicious Sunday in the sunshine.
To book, contact restaurant reservations on +27 (0) 21 437 9029 or email restaurants@12apostles.co.za.
We enjoyed our meal as guests of the 12 Apostles Hotel & Spa. All images and views are my own.
All images taken with a Canon EOS 600D from Loot.co.za