As I mentioned in this blog post, we had the opportunity to experience the relaunch of the famous Bottomless Bubbly Lunches at 15 on Orange. With the invitation, also came the opportunity to spend a night at the hotel. I was excited, as no matter how much we love 'home', a night away is always a treat.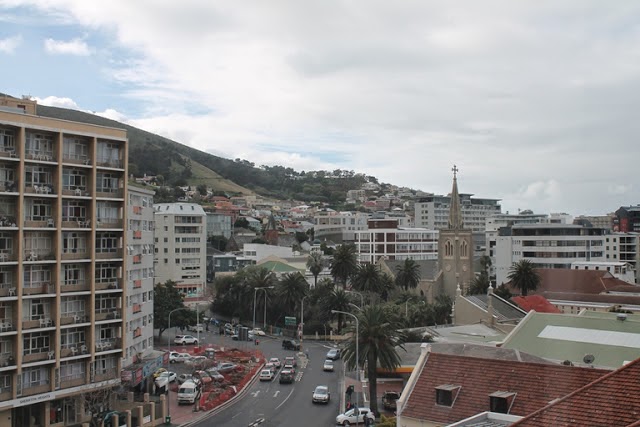 Having driven past the hotel numerous times before, it always struck me as a convenience hotel. An unfair judgement, I know acknowledge, but perhaps due to its central location in Town, it seemed as though the perfect option for business travellers, and not so much for those in search of a luxurious night away. Happily, I was horrendously wrong.
The hotel reception features marble quite heavily, with accents in the form of modern Perspex artworks, feather lampshades and artful seating. No expense spared here. We were then taken to our suite – our suite of over 70m2. With two TV screens and a seating area that can comfortably take at least 6 people, this was not business convenience. This was authentic luxury.
We settled under the covers (as guests do, on a Saturday afternoon) loaded a movie and just absorbed our surroundings and marveled at how wrong our perceptions were. We then headed down to dinner (you can read more of my thoughts on hotel food here).
With a choice of their winter special menu or a la carte, we opted for the latter. I had the Norwegian Salmon and Avocado Tartar Parmesan galette, with Ikura caviar, soy-lime broth and micro herbs to start while the lovely husband had Honey Chilli Fresh Water Prawns with Oriental salad, with avocado mousseline and citrus fruit. Both were fantastic. Mine was packed with zesty flavour, tempered by the wonderfully creamy avocado. I could have happily upsized my portion and had it as a main. Luke's prawns were delicious – also with obvious Asian flavours – but we couldn't really taste the difference between fresh water prawns and ocean prawns.
For mains, my choice was always going to be easy – gnocchi with blue cheese. Lovely, rich sauce – but the gnocchi were a little too tender and overcooked. Luke's Beef short rib was rich, meaty and tender.
After my rich main course, I decided to skip dessert. The sorbets, however, caught Luke's eye and after his first spoonful, we ended up sharing it. Perhaps the best sorbet I've had? Yes, I'm wiling to concede that. Ridiculously smooth and not overpoweringly sweet, I was tempted to order my own portion.
Service was great, the food was exceptional – what more could you ask for?
We headed back to our suite and got lost in a movie on our couch, before continuing it in bed (with two TVs, this is easy to do). We slept soundly and happily and woke ready for breakfast.
We were advised to have a light breakfast, in anticipation of the lunch that was to follow. I started well with yoghurt and fresh fruit – but saw Mushrooms and Goat's Cheese on Toasted Sourdough…and gave in. As I was already down the path of horrendous overeating, I added a little bacon to it too. As you do. 
The lovely man had the Toasted Brioche French Toast, with whipped butter and maple syrup. He could not stop singing its praises – it's on the short list for his death-bed meal. We were then treated to mini spa treatments and a little down-time in our suite, before preparing for lunch. 

To read about the Bottomless Bubbly Lunch, please click here.
We were given the further luxury of a late check-out (taking our extensive lunch into account) and spent a little recovery time in our suite before having to say a very sad goodbye to the hotel. 
Truly fantastic food
 and the most magnificent food have made 
15 on Orange
 my favourite Cape Town hotel.
Note : We were invited to stay at the hotel and enjoyed our stay and meals as their guests.