As someone who spent their formative years at a piano, and adult life at a keyboard – long nails were never quite an option for me.
But, when the opportunity popped into my inbox to visit Ageless Faces for my first ever set of acrylic nails – I was convinced. After all, if you can't try something new during a pandemic, when can you? I have also trusted them with my skin, when I visited for my first ever microdermabrasion treatment – so, knew I'd be in good hands.
A note on safety during COVID-19
This was one of my first real "outside world" visits since the pandemic, and as a naturally anxious person, I was nervous about safety protocols, but had absolutely no reason to be. My temperature was taken on arrival, hands sanitised – and Theresia, the lovely nail and lash technician – was seated behind a perspex screen, with a mask and visor on. I felt safer than I have going to a normal grocery store, so hope I can help put your mind at ease.
How long do acrylic nails last for?
As with anything, it depends on how well you look after them – but, you can expect them to last from 2 – 3 weeks before you need them filled, as they will start to grow out from the base of your nail bed. You can generally have them filled two to three times before you'll need to replace the set.
How long does it take to apply acrylic nails?
You can expect to be at the salon for approximately 90 minutes for a full new set of acrylic nails.
Do acrylic nails damage your natural nails?
If done and removed by an experienced technician, absolutely not. I'm back to my "bare" nails, and they're absolutely fine – just as they were before I had acrylic nails.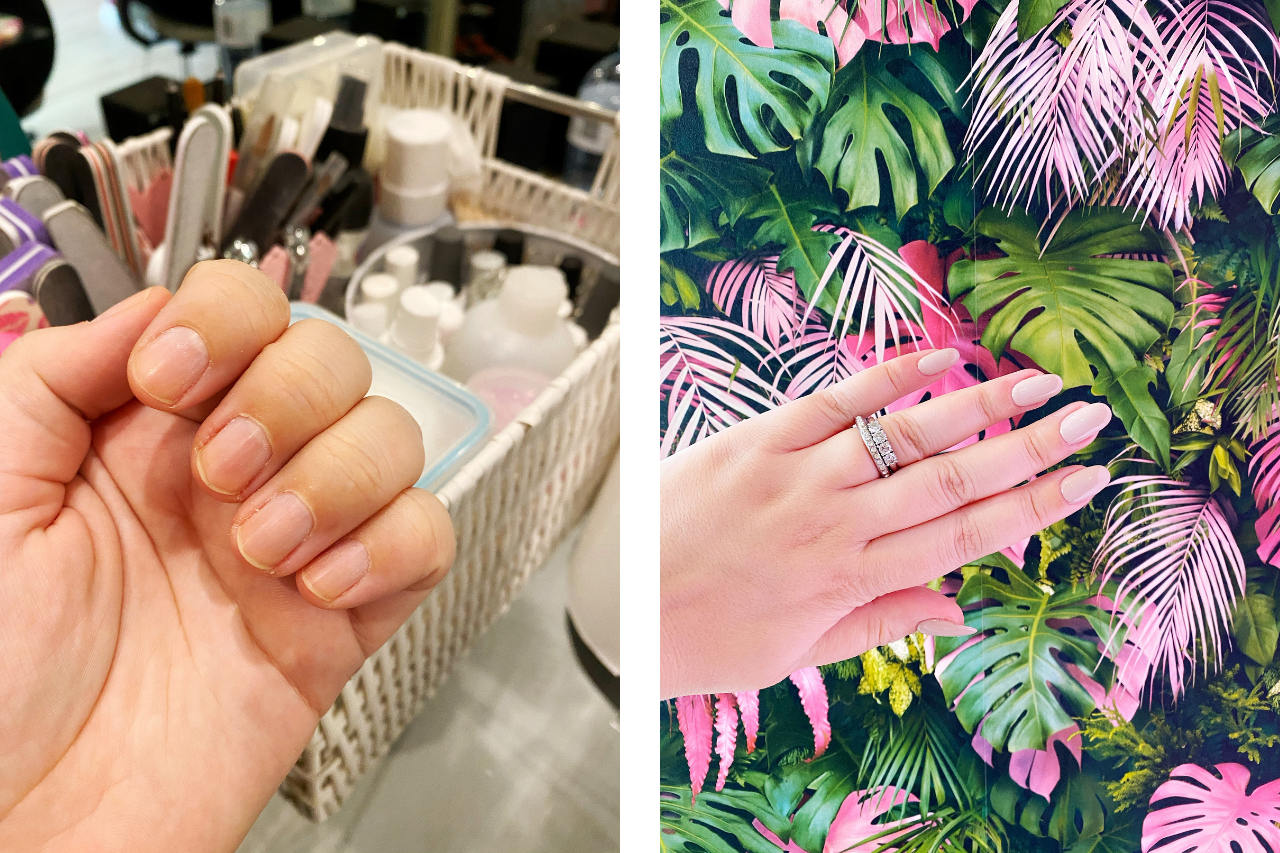 Do you feel like the acrylic tips will fall off?
This was a legitimate fear of mine, but they are so solidly attached to your own nail bed, they feel more stable and secure than your own nail would be, if it was that length.
What does the process of getting acrylic nails involve?
It's pretty thorough – your nail bed is prepped, cuticles trimmed, and cleaned before the technician finds which acrylic nail tip fits which of your nails best. They're then glued, cut and shaped to your preference, before the nail itself is built up (with a paste made of powder and a liquid monomer)  – securing the tip and giving it a more natural shape. For the acrylic nails and tips themselves, there's no UV light or lamp needed – the glue and acrylic paste air dries quite quickly.
I chose to have Gelish polish applied, but you can leave the nail natural with normal polish too.
How do you remove acrylic nails?
They will be buffed and soaked off with acetone – much the same as any long-wearing nail polish. To protect your nails – and ensure you don't get too enthusiastic with an emery board at home, it's best you visit your salon to have the professionals remove them.
Would I have acrylic nails again?
Absolutely yes. It took me a few days to get used to them – where I didn't quite know how to tie my laces or wash my face normally – but, then they quickly felt very normal. Perfect for a holiday or special occasion – or any time you need to feel fancy. I spent two weeks feeling as though I needed a fancy champagne glass in my hand at all times – and loved every minute.
I enjoyed my visit as a guest of Ageless Faces. All views and images are my own.