As part of our recent weekend in Franschhoek, we had the opportunity to experience a five-course fine dining menu at Pierneef a La Motte.
I'd had the privilege of dining there before, but it was the Mr's first visit. Not giving anything away, I wanted to keep the experience as much of a surprise for him as I could. Arriving just after sunset, it was a particularly warm autumn evening as we wandered through the estate and made our way to the restaurant.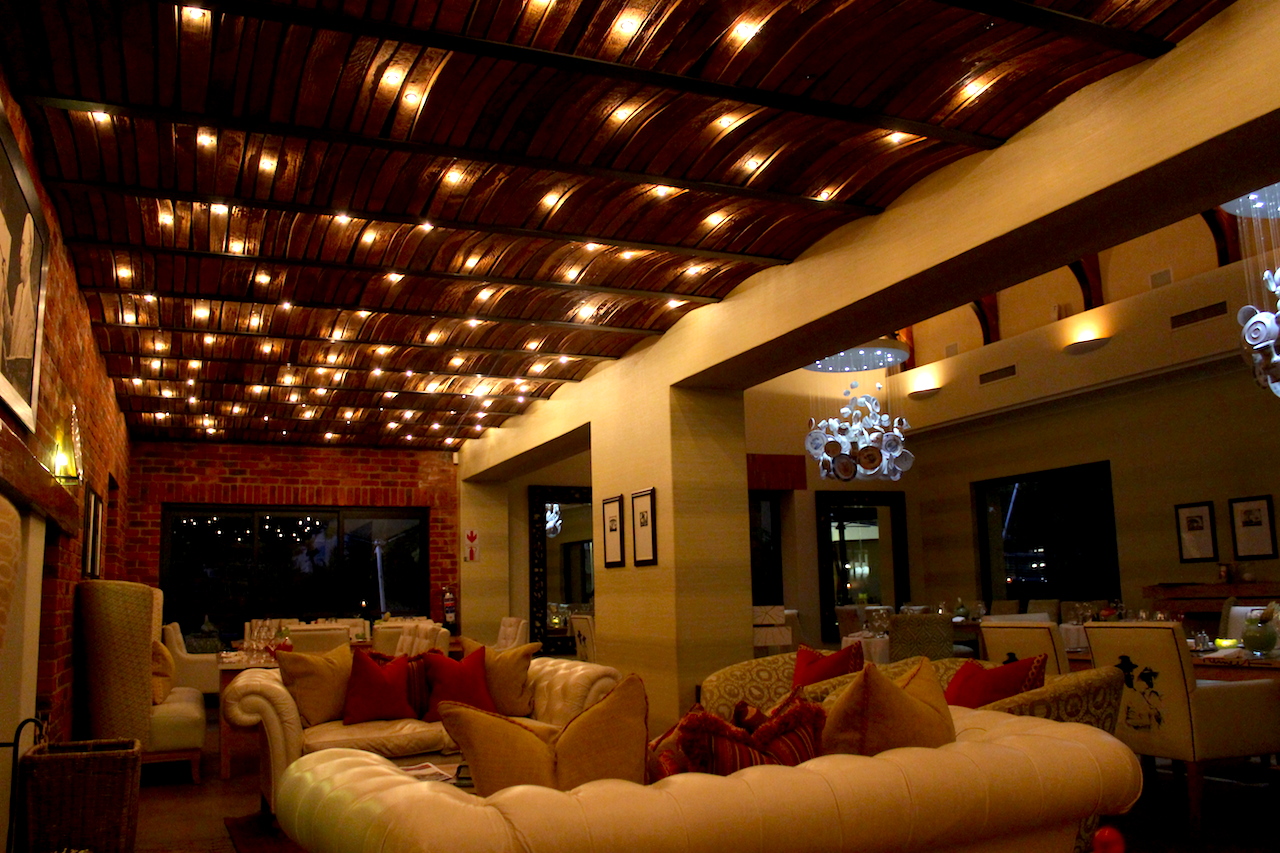 While daytime dining allows fantastic views over the deck and small lake, night time was exquisite. The bespoke light fittings really come into their own and definitely take the experience up a notch.
What I've noticed from both my visits is how each dish was undersold on the menu. It sounds decent, you think you'll give it a try – and then you're completely blown away when it arrives at the table. While Luke dined with me – having a five course meal from the 'standard' menu – this review is all about me. Because, when, as a vegan, you are treated to five courses of wonder, you selfishly cling on to every word, in order to share it with others.
We started with MCC, bread and a potato and pea cream, a sundried tomato and cashew spread, as well as an assortment of seed crackers. While I'm generally happy to forego the butter that normally accompanies table bread and feast on balsamic vinegar and olive oil, it was a treat having a little something extra that I could also enjoy.
I would soon realise that this was only the tip of the iceberg, and that Chef Michelle had prepared an absolute feast for me. Eating out as a vegan can be tricky – for both the diner and the chef – so I try and manage expectations somewhat. However, I quickly found out that Michelle lives in a home where dietary requirements are part of daily life – specifically gluten, lactose and eggs – so she was more than prepared to take on the challenge.
And yes, I do believe vegan cooking can be a challenge – not necessarily for skill, but for mindset – and it's always interesting to see how chefs approach it. Some fail terribly, some manage, and others excel. Michelle, on the other hand, has set the benchmark.
Now, on to the details. My first course was a chilled peach soup with raw fennel and roasted almonds. While the dish itself was fantastic, the pairing with the Pierneef Sauvignon Blanc was incredible – high praise from someone who openly admits that Sauvignon Blanc is her very worst wine. This was a trend that continued throughout our courses – while each dish was fantastic, the wine pairing was even better.
My second course consisted of corn crisps with quinoa, almonds, semi-dried tomato, a potato and herb olive oil emulsion with charred corn and lime, which was paired with the La Motte Chardonnay. I joked that this dish reminded me of DIY tacos, but it was tied for my favourite, together with dessert. Smoky, sweet and crunchy it was both elegant and comforting at the same time. Just fantastic. The La Motte Chardonnay is one we've loved for ages, so it was a given crowd-pleaser in this case.
Next up, my third course of lentil curry with carrot masala and coconut, with gem squash cream and toasted baby aubergine. A meal on its own, I admit that I was starting to feel not-hungry-at-all at this stage. A fragrant, gently-spiced curry and a perfect choice for cooler evenings. I do feel that I didn't do this – or the next course – justice, by simply being too full. But, as part of a two or three course menu, they would have been absolutely devoured. We enjoyed this with the multi-award winning La Motte Syrah Viognier. And yes, it deserves everyone of those stickers.
Fourth course was roast cauliflower puree with celeriac, sweet potato fondant, sweet potato and orange dumplings, cauliflower and cashew cream. Sweet, fragrant and creamy, this dish belonged in a big bowl, on the couch, in front of the fireplace. In terms of flavour and combination of ingredients, this was definitely one of the top dishes. Sadly, it was just too much for me, and I had to send a not-quite-empty plate back to the kitchen, with my apologies.
My fifth course was one of the most beautiful dishes I recall ever eating.  A popcorn and peanut blancmange with chocolate sorbet, sponge and banana, served with the La Motte 100% Viognier Straw Wine. Both elements were phenomenal in their own right, but together, I effectively ended the meal with fireworks. And, it's completely true what they say about having a dessert stomach.
Can we also take a minute to appreciate the work of art that was Luke's chocolate dessert?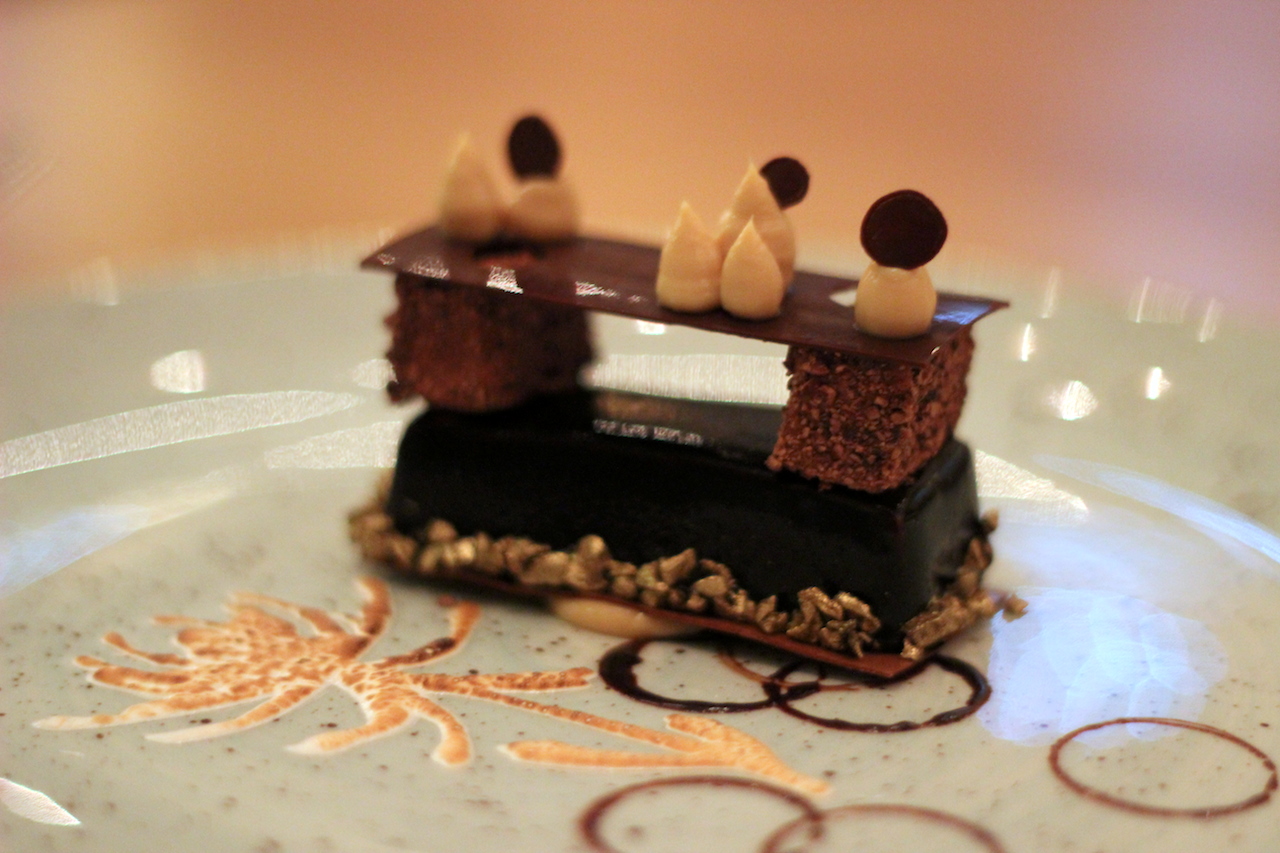 The fine dining menu is available on Thursday to Saturday evenings, at R445 per person without wine, R650 per person with wine. You can view the current menu here.
We enjoyed our meal as guests of La Motte. All views and images are my own.