I was lucky to be treated to lunch at the Pot Luck Club by an ex-client a few months ago. However, it wasn't quite the right occasion to whip out my camera and start snapping photographs for a review.
Added to that, the Mr didn't come with – what better excuse did I need to make another visit? Well, that's what happened last Saturday. We put on our fat pants, hopped into a trusty Uber and prepared to feast.
The 9th best restaurant in the country, and owned by Luke Dale-Roberts, I don't feel like I need to go into the story behind the Pot Luck Club. We're all about the food today.
Once seated, you're given a piece of paper and pencil, with which to write down what you would like to order from the menu. If you'd prefer, your waiter could bring you a selection of surprises, but I couldn't quite relinquish control to that extent. Also, having been before, I already had a few favourites in mind, that I knew I had to have.
The food is made to share – there are no starter or main dishes. Instead, they are divided into flavour profiles. Once you have placed your order, the kitchen will send them out in the order they believe will most do justice to the dishes.
The restaurant suggests 3 – 4 savoury dishes per person. We leaned on the side of generosity (gluttony?) and ordered 11 (with two portions of chickpea fries). I've listed what we ordered below, with our favourites in bold:
Masa ciabatta, chimichurri and baba ghanoush
Chickpea fries with aioli and tomato ketchup
Beef tartare, Japanese apple and mustard dressing with parsnip crisps
Springbok carpaccio with smoked pine nuts, finished with a burnt honey and soy dressing
Ash baked celeriac, lentil and mint dressing, roasted hazelnuts and aged Balsamic vinegar
Smoked beef fillet with black pepper and truffle café au lait
Ceviche, jalapeño tiger's milk, quinoa and samp and masa crisp
Lightly smoked trout, buckwheat blini with walnut and grapefruit dressing
Malted chocolate fondant soufflé with halva ice cream
Tonka bean churros with malted chocolate sauce
The first dish out was the masa ciabatta. Possibly not sounding like much on the menu, it was one of our favourites of the day – with the masa hand-ground by the team at San Julian. Served warm, to be broken apart by hand, we gladly tore, dipped and enjoyed. It came with slow-roasted garlic – which I ate, as is – and an anchovy butter, which the Mr had all to himself. If we go again, I'd definitely order two of these. The chimichurri deserves special mention – sweet, slightly spicy and tangy. Definitely something I'd like to try (and, no doubt, fail horribly) to recreate at home.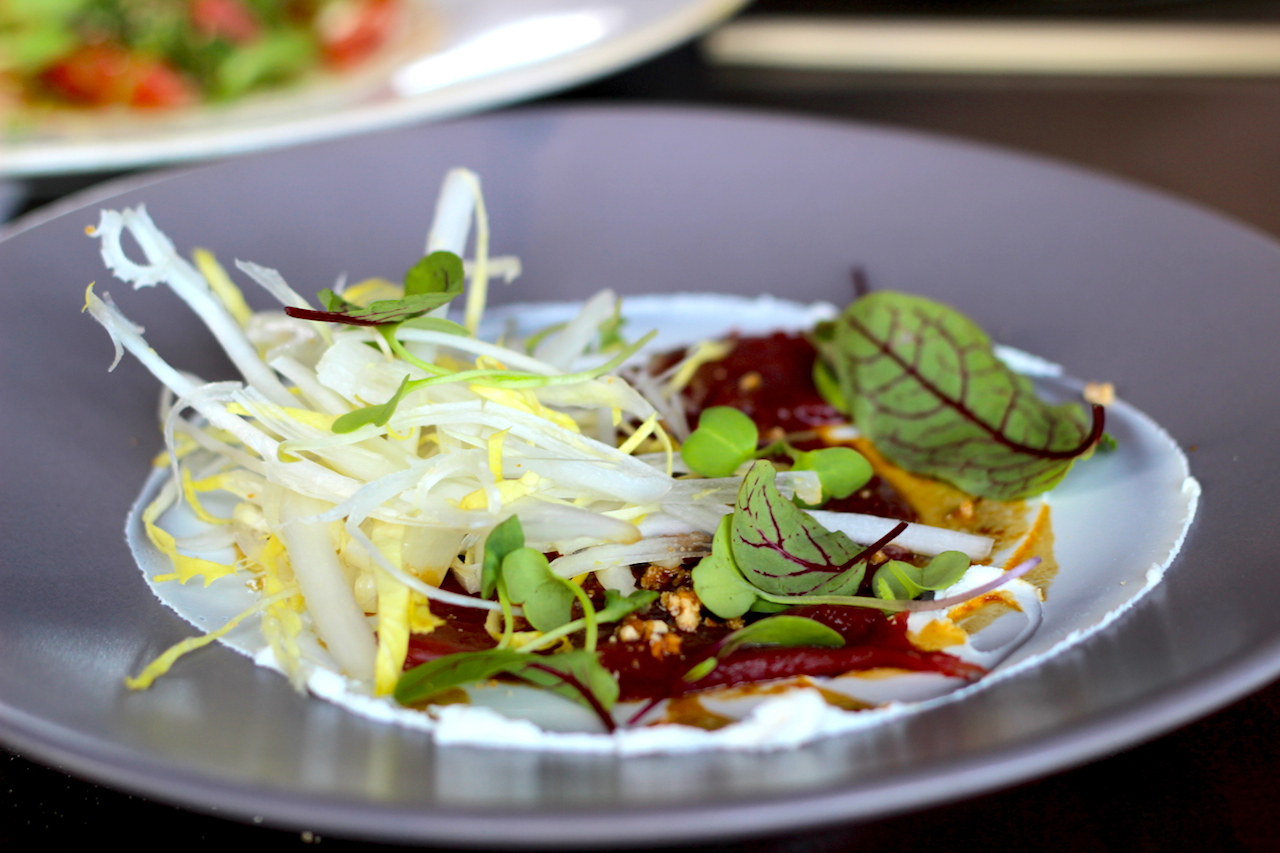 The springbok carpaccio was good – I stole a little piece of the salad and goat's cheese cream on the bottom. Although, let's be clear – everything here is going to be good. Or, at the very least, very good. So, standards are high. And, this dish was good. There was just dishes that the Mr enjoyed more.
Ooh, now onto a veggie option. The Pot Luck Club has no shortage of options for vegetarians – and even one off-menu I didn't think to ask about.  This celeriac dish was pretty specactular – in presentation, flavour and texture – and perhaps one of the most complex dishes we ordered. The earthy celeriac is served with crunchy toasted hazelnuts, fresh mint, creamy goat's cheese and an incredible aged Balsamic vinegar. Sweet, earthy, crunchy, fresh and creamy. It's a whopper of a dish – I'd strongly recommend it for meat-eaters too.
Next, the ceviche. Another good-but-not-a-favourite dish. The Mr said that it lacked a little zing – perhaps a little extra lime – saying the samp and masa crisp was by far the best part of the dish for him.
Oh. Oh, chickpea fries. You have my heart. Made from some sort of croquette-ish, chickpea flour lovechild, they are simply incredible. We got a little friendly with the table next door to us and strongly recommended that they ordered us. They thanked us afterwards. The dips were a split vote – I adored the garlic aioli, while the Mr fell head-over-heels in love with the umami bomb that is the tomato ketchup. Do yourself a favour – order two portions immediately.
The beef tartare was an instant "mmm, mmm, mmm" dish for the Mr. A bit of a "hell yeah, that's amazing" moment. I didn't manage to get much more out of him than that. The beef was quite thick-cut and chunky, with a strong Asian influence – reminiscent of beef tataki. It's definitely something he'd order again – and a highlight dish of the day.
A note about drinks – Pot Luck Club has an extensive and impressive wine and drink list. I started with a glass of Vuurberg White – a blend of Chenin blanc, Viognier, Semillon, Roussanne, Grenache blanc, Verdelho, Clairette blanche that I hadn't encountered before moving on to a special cocktail of the day. There were roasted nectarines and lime involved, and it was delicious. All special cocktails are finished off table side, which makes for a pretty intermission to your meal.
Next up – the fillet. Another stunner of a dish. Luke didn't want it to end. It may appear simple on the plate – sliced meat, served in a puddle of brown sauce and topped with salt crystals – but it packed a flavour punch. Smokey, rich and meaty – by this time we had made friends with both tables next to us – and could hear the groans of pleasure as their dishes also arrived to the table. It's one of the more expensive dishes on the menu – at R110 – but I wouldn't recommend visiting the restaurant without ordering it.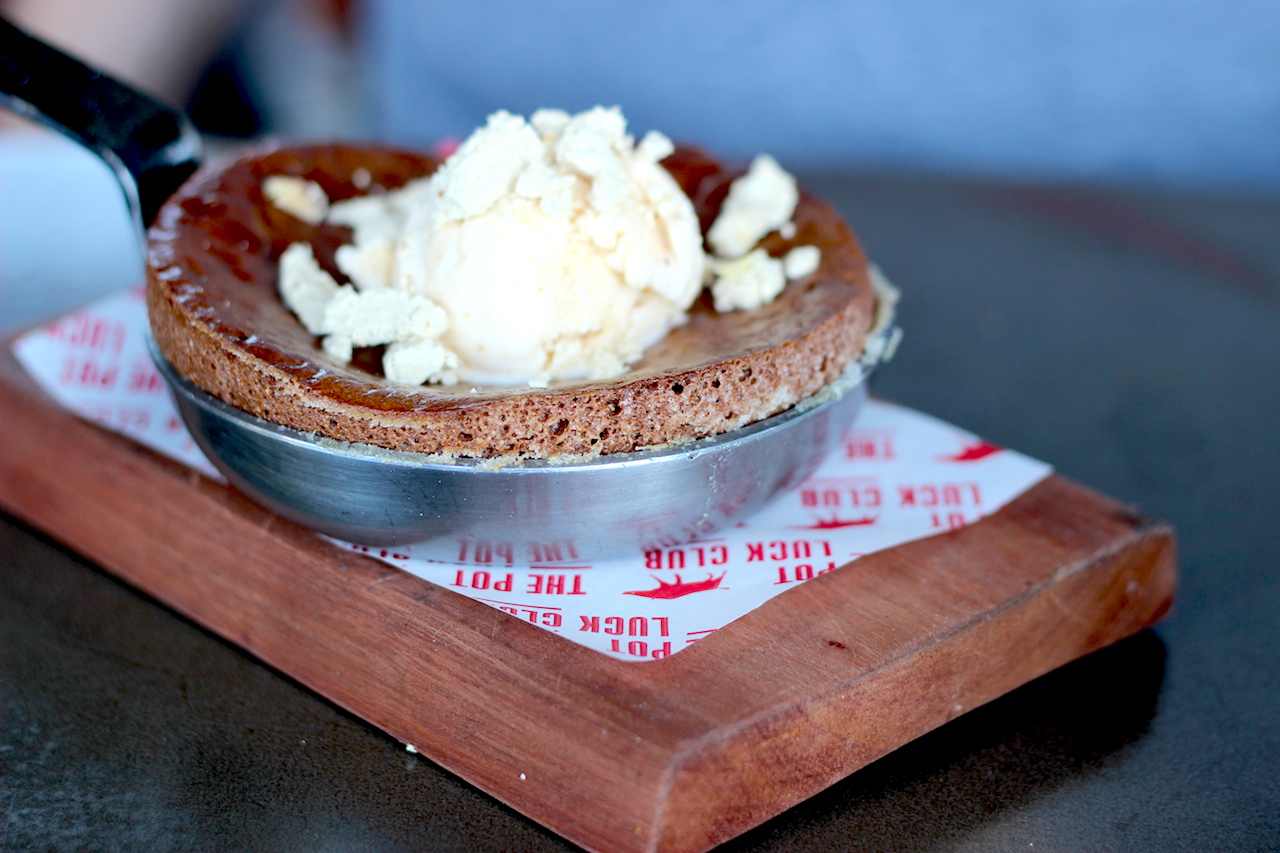 Having conquered (what felt like) most of the savoury menu, we moved on to dessert. I walked in knowing what I would order – the churros. Light, fluffy and crunchy, they are than a mere vessel for the malted chocolate sauce. Although, the fact that the sauce comes with a spoon, shows that the kitchen knows how this meal is going to end. Once I was done with the spoon, I moved on to using my finger to scrape out every last drop. Trust me, you want to eat this.
Luke ordered the chocolate fondant soufflé – which was more soufflé than fondant – but still delicious. Just not as good as my churros.
We left after almost three hours, properly stuffed. There was no chance of dinner that evening. Lunch was good. Some dishes will always be more enjoyed than others – and if you order 10, the chances of finding absolute favourites will be even better. Our meal came to around R1 100, including tip and drinks. Was it worth it? Yes. It's not an everyday kinda place – we won't likely visit again for a good few months – and even then, I'm eyeing their brunch menu.
Note: We paid for our meal in full. A review was not requested or expected. All views and images are my own.