"Considered by many to be one of the most beautiful and romantic hotels in South Africa, with an enviable reputation for elegant opulence…"
Given my very limited knowledge of Joburg, The Palazzo was one place I had actually heard of – and, expectations where high.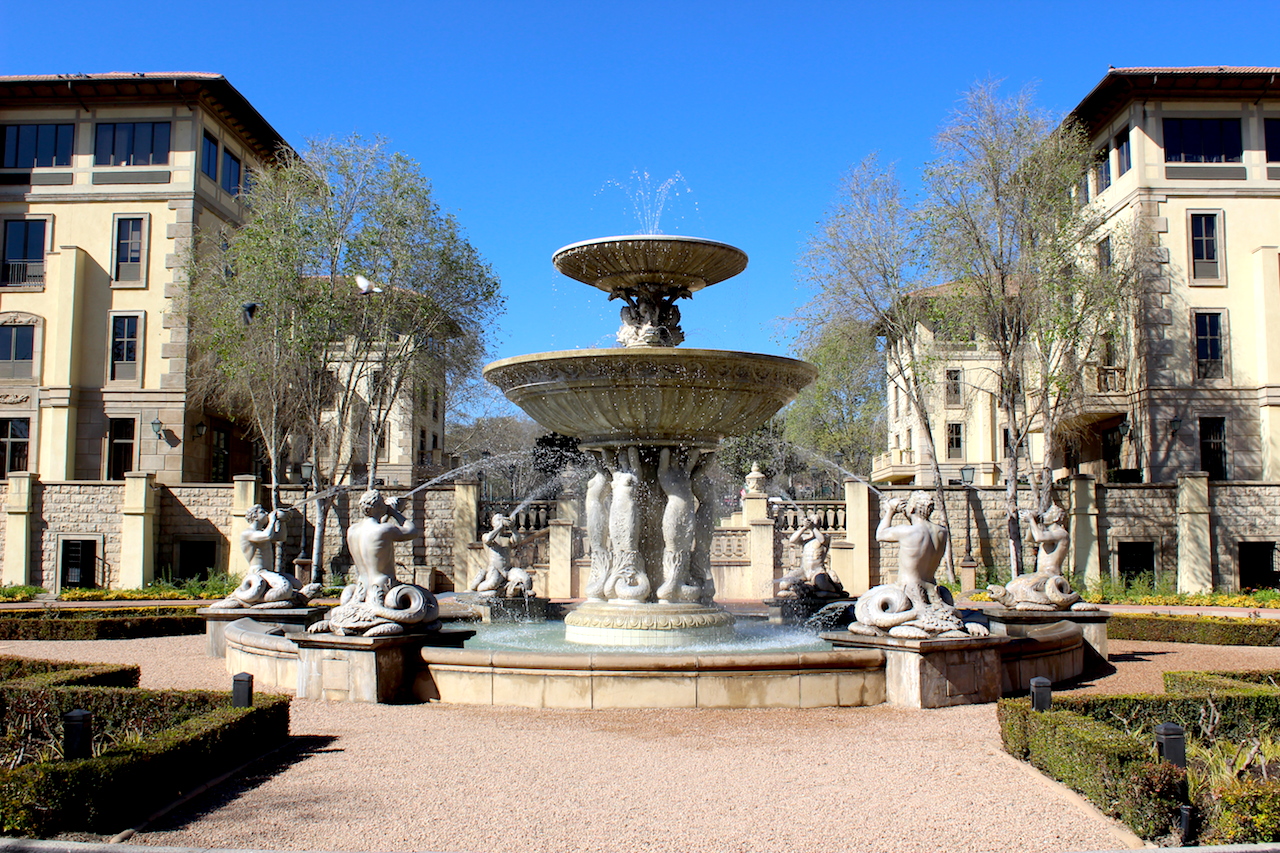 I suppose now is as also as good a time as any to admit that I love fancy. This is a woman who doesn't go camping and lets out a little squeal of delight when she spots linen napkins or a concierge team in tailcoats. Before you even set foot inside the hotel, you're greeted by water fountains and a fleet of high-end cars that would make even the Top Gear presenters' eyes water.
Before I was even through the doors, my luggage – one small suitcase on wheels – was promptly removed from my care by a porter, who placed it on a gleaming luggage trolley, and I was offered sparkling water while I checked-in, and made the most of the buffet of sweets on offer.
While the piano music was quickly discovered to have originated from a gentleman tinkling the keys on an elevate walkway, the source of the soothing water was a little tougher to identify – until I discovered that a grand staircase at The Palazzo isn't quite complete if it doesn't come with its own indoor water feature. I was not one to complain.
After my brief exploration of the building, I was taken to my suite and gasped and giggled a little when the door was opened.
I was greeted by an opulent bed, armchairs, a desk and separate dressing table – with a wall of windows that looked out onto the gardens and restaurant patio below. The Joburg weather had finally come around, allowing a warm breeze to blow through the curtains as I took in my surroundings. Through the bedroom there was a small closet area, and open plan bathroom.
As it was the last day of my Joburg trip, I was admittedly a little tired, but still needing to catch up on some work. I compromised by working from an armchair, in a robe – with my feet up and TV on in the background – and, I'll admit, it was absolute bliss.
All too soon, it was time to meet a friend and colleague at the on-site restaurant, Medeo, for lunch and a catch-up. Italian-inspired, in keeping with the theme of the property, we indulged in rich pasta, crisp calamari and desserts so indulgent they should qualify as a meal on their own. Seated outside in the winter sunshine, with a chilled glass of wine in hand, it was a life that I could totally get used to.
I was then out for the rest of the afternoon, returning late that evening once fashion week had come to a close. After a hot, powerful shower I sank into that enormous bed – and was grateful I hadn't tried it out earlier, as I would never have left. Sleep came instantly, only to be woken by my alarm at 04h00 the next morning – telling me it's time to catch that flight home. Palazzo – I hope to see you again soon. And next time, for breakfast too.
Note: I enjoyed my stay as a guest of the Palazzo. All views and images are my own.
montecasino