I've been shopping for clothes online for well over five years – with Spree the first retailer I was brave enough to try.
And, I say brave enough, because I know that shopping online for clothes is still a bit of a big deal for some people – so, I get it. While almost all of the major online clothing retailers offer free returns – where a courier will come and collect the item for free, return it to the store and process a refund for you – I understand it is a hassle and can take a while.
So, here are a few tips to help you choose the right item that will fit you, first time around – without trying it on. For reference, I'm using items from Superbalist for this exercise, only because they provide quite a bit of detail around fit and the model's dimensions – it's not sponsored in any way.
Case Study One
Here's a strong contender from Superbalist that  I've had my eye on – and, here's how I would determine whether it's like to fit or suit me.
So, one of the first things you need to know before you head online, is a strong sense of your body. What you do or don't like showing or being fitted and tricky areas that you might need to work around or pay special attention to. For example, I know my arms are pretty chunky, so I always pay attention to how the arms of a garment fits the model. If they're pretty fitted, I'll likely need to size up. I'm also pretty heavy around my hips and thighs – so tend to not buy anything that is too fitted around that area.
Looking at the dress on the model, I can see that the arms are quite loose, so that's a win, and it's quite flowy from the waist down – so, in theory, I won't need to size up.
Now, let's look at the notes on the size of the model:
She's wearing size 42, even though I don't think she looks it – so, as I'm normally a size 40 or 42, it will still likely fit me – but, if I was a straight size 42 – I might need to size up. I see she's 178cm tall, 10 cm taller than me, and the dress hits her just at the bottom of her foot. This means it could be too long for me, and I'd need to wear it with heels all the time. I must now decide how I wanted to wear it – was I thinking of flat summer sandals or sneakers – or am I ok with wearing it as a more formal dress all the time with heels?
Case Study Two
Here's a blouse style I've also been considering for a while. Let's look at the details and fit on the model – arms aren't too tight, neck isn't too low – so, it looks comfortable and even office appropriate and fairly true to size.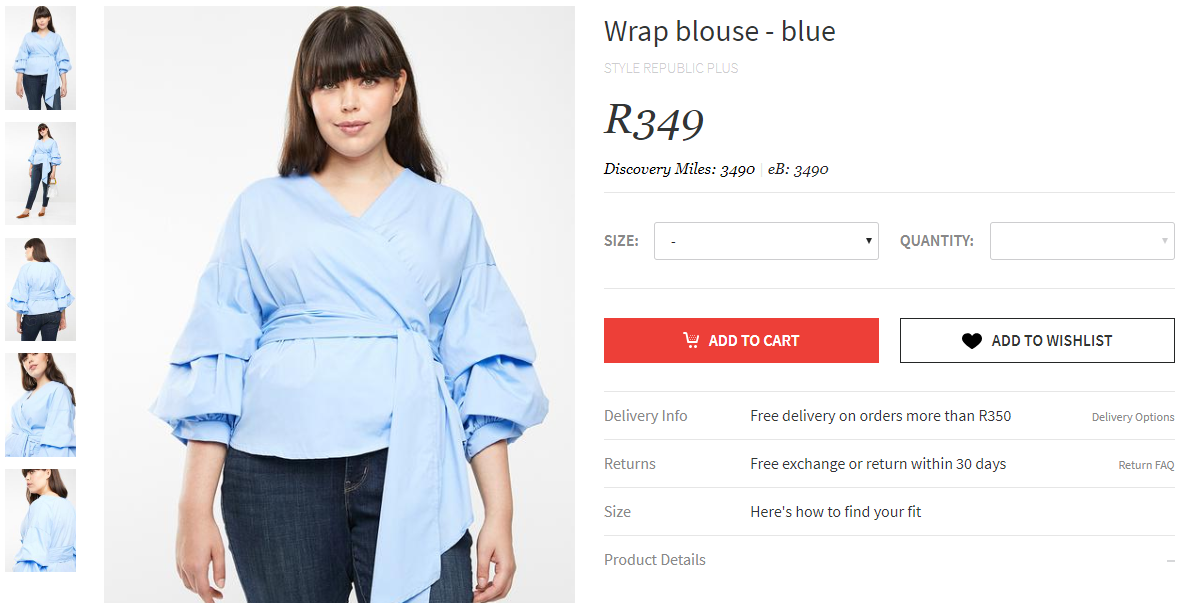 I see the model is a size 42 and the top looks a little baggy, particularly around the back and shoulder area, so, seeing that the arms are a generous cut, I would size down from the model and order a size 40.

Case Study Three
Another example – this time with a classic maxi dress. Beautiful print, great arm situation going on – but, I immediately see the length of it on this model. I know she's taller than me and wearing heels, and it's still to the floor. So, regardless of any other fit issues, I already know it's absolutely going to be too long for me – so, it's a "no".
Case Study Four
Ok, let's try something a little different and possibly trickier – a jumpsuit. You now know my tricky areas, so let's move straight into looking at the details of the model.
I can immediately see that the model is wearing a size 44 – which means the sizing runs quite small (I've done my fair share of online shopping and know that the model is usually a 42, as we're pretty similar in size) – so, I'll need to size up. She's 172cm tall, only 4cm taller than me, so the length of the pants shouldn't be a problem, especially if I wear heels. The arms and legs of the pants flow nicely, with no obvious pulling or stretching – so, if I were to order this, I'd need to order a 44, which should fit pretty well.